Settle in . . . relax and enjoy the aroma and rhythm of Candle dipping ~ with wax made by local bees.  Receive the gift of warmth for yourself, and you may want to invite a family member or friend to join you in this experience
CANDLE-MAKING & Hand-made Holiday Gifts . . from Nature !  (updated 2021-10)

December 4, 2021 Saturday 1-5p
After dipping our beeswax taper candles we will be making Earthen Candle Holders & decorative Match Boxes from all local and natural materials.   mmmmm.
If you wish, you can have a short tour of the grounds – see enchanting thatched structures & sustainable projects.  Although all materials are provided, you might want to bring some things from nature or harvest them at the Strawbale Studio.
(Note that this class is repeated on both Sat Dec 4 & Sun. Dec 5, 2021)
Early Bird Discount if paid by Nov 20 is $25/person + $10 materials fee.
After Nov 20, the fee is $35/person + $10 materials fee.
Bring-a-Friend Discount is an additional $5 off each person.  
Class size limited to 6, so consider registering with a payment now.
We will follow Covid guidelines below. If you are feeling sick before the event, you can receive a full refund.
Eventbrite registration shows you how many spaces are left.
The price includes all materials to make 6 candles, 3 candle holders and 3 match boxes for you to decorate and take home. There will be a variety of natural materials from the land that you can use to decorate your projects.  You can also collect some ahead of time as well, which is FUN !  (bark, stones, leaves, etc.)
Agenda & Resources are below.
What to bring:
Wear comfortable old clothes.  Wax may get on them.
You might want to gather some nature items ahead of time to use as decoration. leaves, pods, etc.
Bring a snack for yourself. Hot water and tea will be provided.
Covid Guidelines will be followed: Masks indoors with distancing, masks optional outdoors with distancing. If that doesn't fit for you, you can check back in spring of 2022 and see if things have changed.
You can receive a refund if you feel ill before the event, and stay home.
You might want to photograph the Strawbale Studio and such.
More information about our agenda, candle-making & resources, below.
The Location of the Strawbale Studio land is one hour north of Detroit. 2691 Noble Rd. Oxford, MI 48370. It is at a private residence. Park in the front parking meadow on the right. If the lot is full continue straight ahead and park in the field. Walk to the house and read the sign which will direct you further.
If you have questions, contact Deanne by text or phone 248 496 4088 or email strawbale.programs@gmail.com.
CANDLE-MAKING Workshop Schedule & Resources
12:30 – 1:00 pm ARRIVE & SIGN IN  – tea & coffee 
1:00 -3:00          CANDLE MAKING session. All Materials provided. 
3:00– 3:15          Break – Check out the Strawbale Studio & grounds.
3:15 – 4:45p       CANDLESTICK HOLDER /  Decorate MATCHBOX . (possible options for gift cards and incense)
4:45p  – 5:00p    Any Burning Questions & Closing.  
************************
CANDLE-MAKING   Agenda details & where to order materials (so you can make candles in the future!)

Introduction; What is bees wax? Show examples:  Candle holder, nature items, decorated matchbox.  Start with one candle each, then 2 each.
Materials:  Crock pot, warming tray, hot plate, wax, pie tins, stirring stick, spoon or knife to clean edges, tall cans. Two dipping areas.
Steps:
Label wicks.
Tie wick to stick.  Start with one.  Get another soon.
Prime the wick.  After first dip, hold the wick straight until it hardens.
"Smoothly down, smoothly up"
Let drip, and then tap the bottom if you want.  … then move to the next station.   Optional: hang on rack.
Size of candle – up to 3/4 " about "thumb thickness'.
Move in a circle, or in groups as appropriate.
CANDLE STICK HOLDER ~ Sculpted of Earth

What is cob?  Identify earth for natural building, sculpting.  Make a very stiff mix.
Going taller.  Create support.  An armature.
Smoothing, texturing, adding things.
Letting dry / keeping moist.  Speeding up– use fan or heat source. Slowing down. Put in a plastic bag.  .
Painting & Sealing. (egg yolk
DECORATED MATCHBOX
Materials: Wood boards and cardboard covered with waxed paper.   Small rocks and natural items.  Clippers, scissors, silverware, wood skewers, glue, scissors, magazines, natural items.
Directions:  Collage directly on the box, or trace the size on a piece of heavy paper or paper bag, collage, cut out and glue to the box.  Leave material to wrap around all edges, or add on a decorative edge paper.  Ends can also be covered.
OTHER IDEAS for gifts that you can make at home.
Stenciled CARDS:  (when this is offered as an option)  Not 2021.

Materials: Paper, pastels, scissors, tissue
Directions: Make a paper stencil from paper. Using a pastel, rub a color patch onto an extra piece of scrap paper. Using a tissue, pick up some of the pastel — like applying rouge or "blusher" — and fill in the stencil onto the card you are making.

Campfire Incense

Grind up pine needles and leaves, and mix with a binder of starch paste and/or pine pitch. Shape to a cone or tiny log, or experiment covering a fine stick.
~~~~~~~~~~~~~~~~~~~~~~~~~~~~~~~~~~~~~
How to Make Beeswax Taper Candles – after this workshop on your own (All materials are provided for your December workshop!)
square braided wick (see details below)
beeswax   (see details below)
tall coffee can or dipping vat
a pot to boil some water
Step 1  Melt the beeswax in the dipping vat, or coffee can over medium low heat by placing the vat in a pot of water. Let the water come to a slow rolling boil and the wax will slowly melt. This is the longest part of this project!  I bought several tall tomato juice cans for the project.
Step 2  Cut your wick to the length of desired candle stick. Be careful to leave enough wick so you don't burn your finger tips. You want a little bit of room to work with.
Step 3  Once the wax is melted it will appear rather clear. Dip the wick so that the bottom of the wick is almost touching the base of the vat. Lift up and pull string straight and tight. LET COOL. Keep dipping until you get the desired width of the candle.  (Although not recommended by me, some people submerge the candle in water between dips, but this can cause water to be trapped inside the wax, especially if it is humid weather which would prevent the water from evaporating quickly.  http://www.ehow.com/how_4625287_beeswax-taper-candle.html
Beeswax: types and where to purchase  Why buy local? Ideally we can support your local ecology and economy by purchasing beeswax from a local place that raises bees, sells honey and possibly wax & wicks as well.  You can google "candles and beeswax" or "honey" in your area. Two places near me, north of Pontiac, MI are
What kind of beeswax? You can buy cleaned wax or clean it yourself (see directions below).  Some folks also sell a darker wax from the brooder bees.  I got it at ½ price and cleaned it myself, as it had quite a bit of "dregs" that settled out when the wax was heated.
Wick: sizing & buying  Wicks are best if they are the correct size for the candle.  If  too small,  a wick can go out, as the wax floods the wick.  Too large, and the wick can burn because it can't get wax fast enough.  For a dipped beeswax taper candle, size 1/0 or 2/0 square braided cord is recommended.  I bought wick on the internet from 85ft  of 1/O SQ Braid Cotton Wick W142 for $3.60.
18 ply Flat Braid Cotton Wick Yardage: 10 yards from www.alittlecandleandbathshop.com for $2.95 + $4.95 shipping. I haven't experimented with the flat braid, but bought it because it was "unbleached" cotton.   Websites have suggested 3/0 square braided wick for 1/2″ to 3/4″ beeswax candles.
Judy from Jody bees recommends 1/0 or 2/0.  You could also try local craft stores.
Cleaning the beeswax  If there are particles in the wax, melt it, and pour through a cloth that is attached to the top of a metal can or pot with a rubber band or wire.  The screening material can be a fine cloth, like a sheet, or cheese cloth with a tissue on top.  Change the tissue occasionally.
Enjoy the process !
Deanne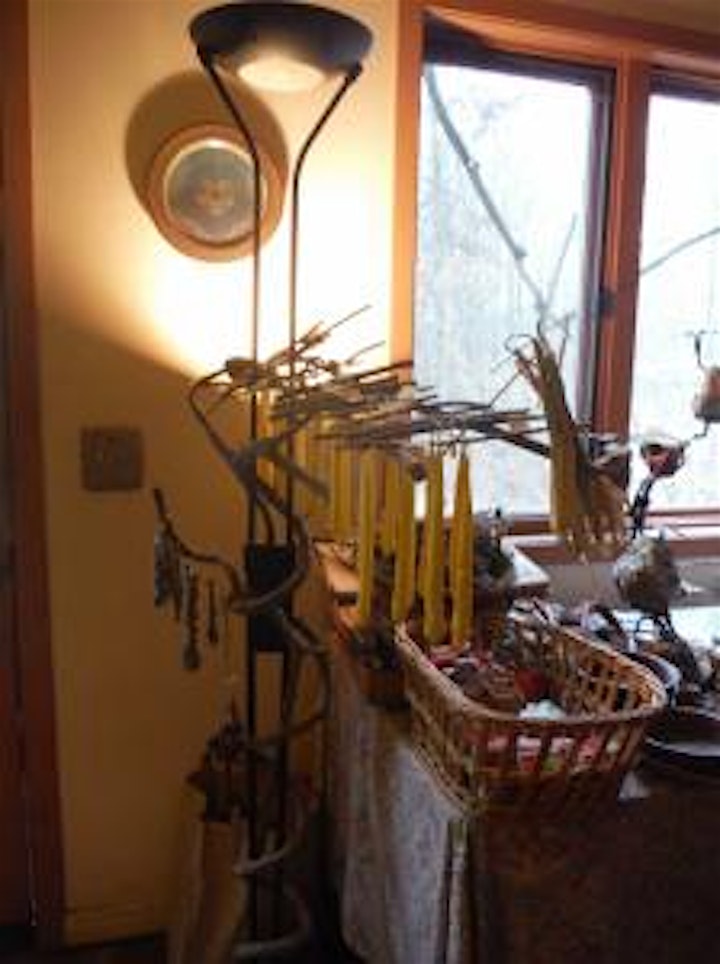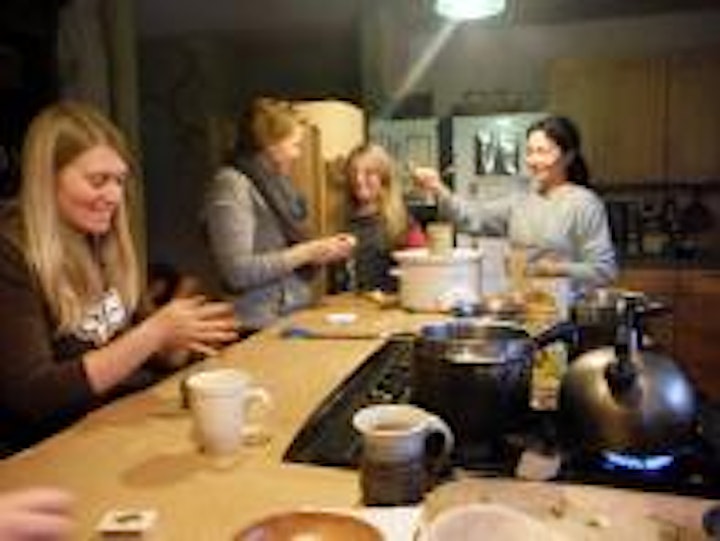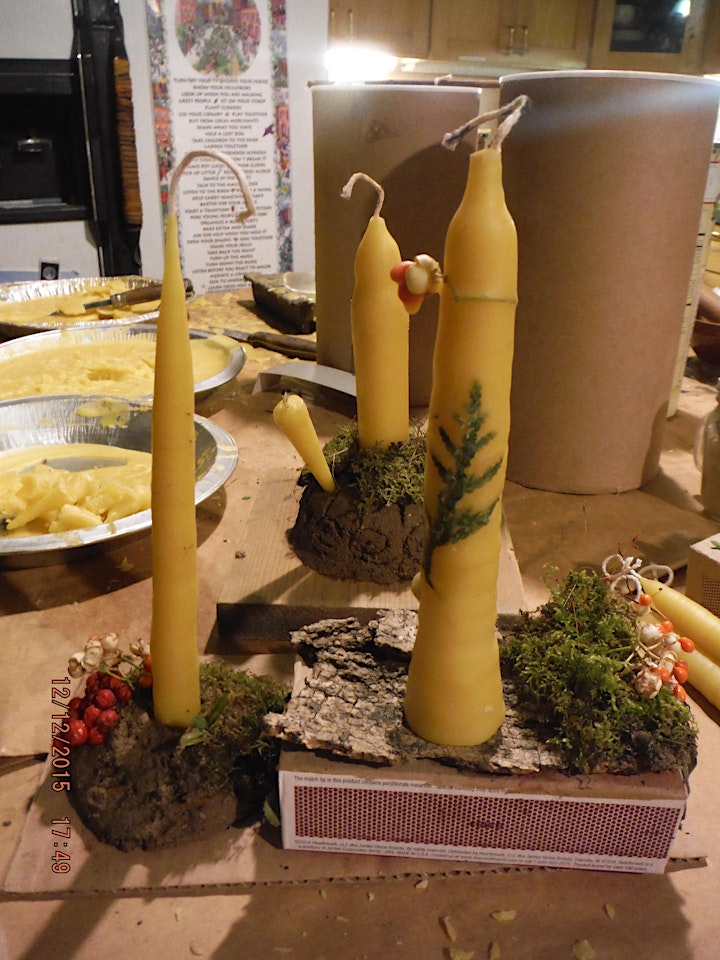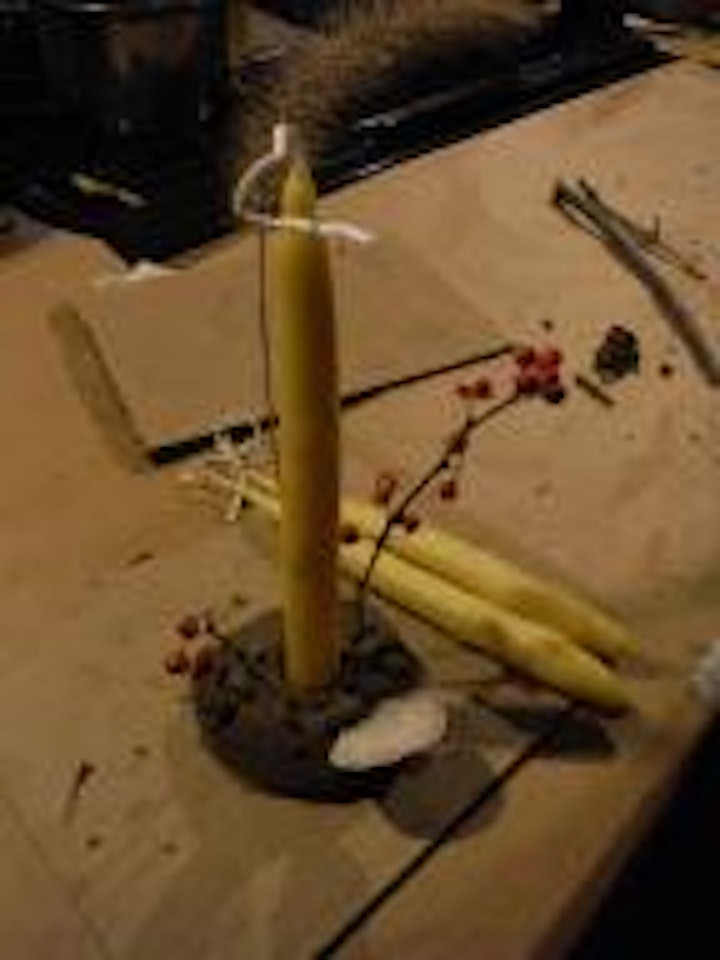 Date and time
Sat, December 4, 2021
1:00 PM – 5:00 PM EST
Location
home
2691 Noble Road
Oxford, MI 48370
Organizer of CANDLE-MAKING & Holiday Gifts
I entered the world of natural building by participating in a "Start-to-Finish" course with the Cob Cottage Company in 1996 after retiring from teaching art & sustainability at the middle school level. Returning to Michigan, I became a collaborator in the Strawbale Studio Project. I now educate (and learn) as much as I can about natural building & sustainable living through workshops, internships, presentations, exhibits & outreach. I had the privilege of illustrating the Hand-Sculpted House Book, The Natural Plaster Book, and The Cobber's Companion, and being a start-to-finish collaborator on the Kensington Kids Cottage, located within the Kensington Metropark, at the Farm Center. Especially life-changing were my adventures during 1979 & 1980 when I recieved a Masters Degree in Social Ecology from Goddard College in Vermont. I have been exploring Sustainability, Appropriate Technology & Design with Nature over the years, in my work with Upland Hills Ecological Awareness Center, Oxford, Michigan, and through my activities in natural building & other natural living skills. Now is a time of networking, sharing, coming together to envision & create. I am so thankful for this journey.