CANDLE-MAKING & Holiday Gifts from Nature ~ Dec 9, 2023
Settle in . . . relax and enjoy the aroma and rhythm of Candle dipping ~ with wax made by local bees.  Receive the gift of warmth for yourself, and you may want to invite a family member or friend to join you in this experience.
We will be making Earthen Candle Holders & decorative Match Boxes from all local and natural materials.   mmmmm. The activities will be held in the cozy kitchen of the main house.
If you wish, check out the enchanting thatched structures & sustainable projects on-site.
The price includes all materials to make 6 candles, 3 candle holders and 3 match boxes for you to take home. There will be a variety of natural materials from the land that you can use to decorate your projects.  You can also collect some ahead of time as well, which is FUN !  (bark, stones, leaves, etc.) A handout link with Candle-making Steps & Resources, will be sent to you by email when you register.
Agenda: Opening Circle, DIpping BEES WAX tapered CANDLES, Lunch / Snack break, Gift Crafting: Decorated Match Boxes, Candle Stick Holders from an Earthen Cob mix, decorated with nature items. A lovely day of creative, chillax crafting.
What to bring:
* Wear comfortable old clothes.  Wax may get on them.
* You might want to gather some nature items ahead of time to use as decoration.
* Bring your lunch for the 10-4p class. Maybe a treat to share if you would like to ( no obligation)
* You might want to photograph the Strawbale Studio or such.
* More information about our agenda, candle-making & resources, below.
* The Location is at the Strawbale Studio land one hour north of Detroit.
If you have further questions contact Deanne by text or phone 248 496 4088 or email ecoartdb@gmail.com
~~~~~~
Regular price is $55 and includes the class & all materials.
Early Bird Discount Price for each workshop is $45 if paid 1 month in advance
Bring-a-Friend Discount is an additional $5 off each person.  
Class size limited to 10, so consider registering with a payment now.
Eventbrite registration shows you how many spaces are left.
REGISTER to save your place!    Class size limited to 12.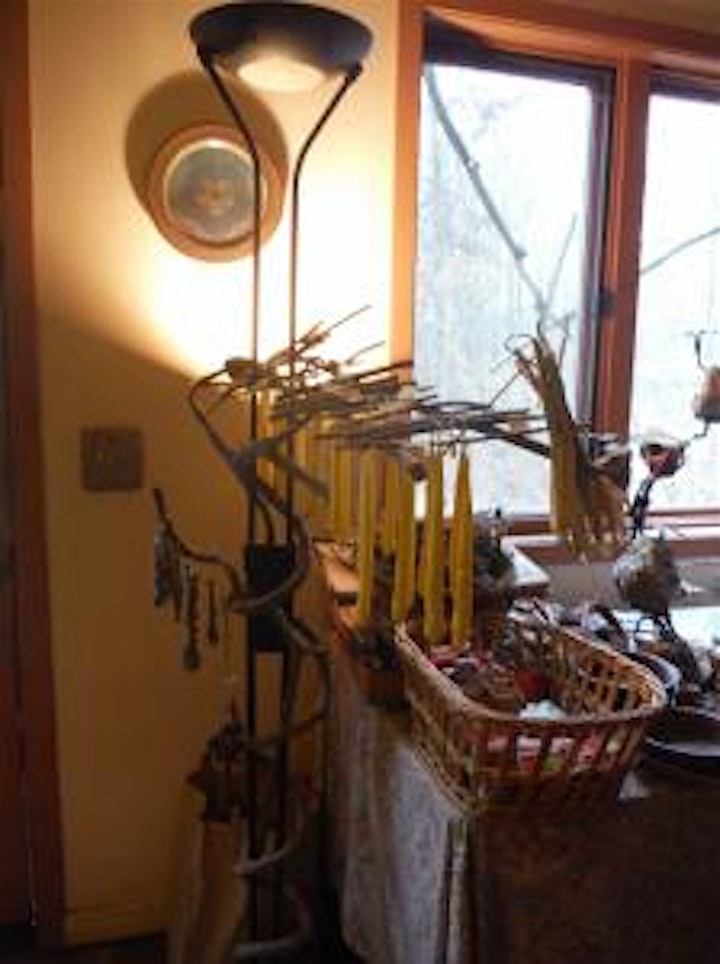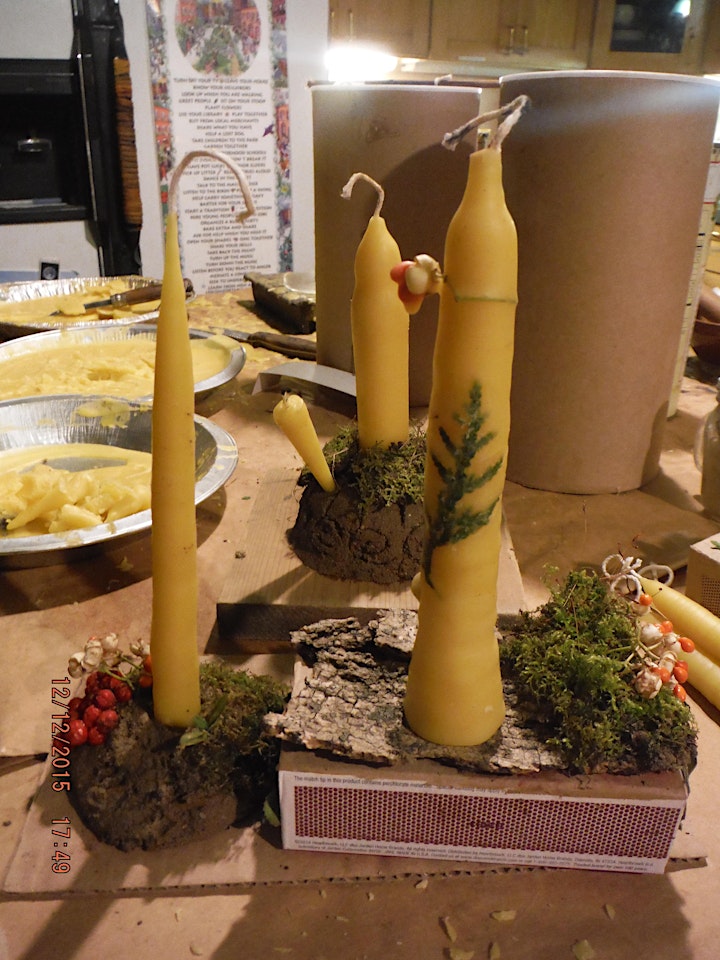 I entered the world of natural building by participating in a "Start-to-Finish" course with the Cob Cottage Company in 1996 after retiring from teaching art & sustainability at the middle school level. Returning to Michigan, I became a collaborator in the Strawbale Studio Project. I now educate (and learn) as much as I can about natural building & sustainable living through workshops, internships, presentations, exhibits & outreach at Strawbale Studio (strawbalestudio.org) I had the privilege of illustrating the Hand-Sculpted House Book, The Natural Plaster Book, and The Cobber's Companion, and being a start-to-finish collaborator on the Kensington Kids Cottage, located within the Kensington Metropark, at the Farm Center. Especially life-changing were my adventures during 1979 & 1980 when I received a Masters Degree in Social Ecology from Goddard College in Vermont. I have been exploring Sustainability, Appropriate Technology & Design with Nature over the years, in my work with Upland Hills Ecological Awareness Center, Oxford, Michigan, and through my activities in natural building & other natural living skills. Now is a time of networking, sharing, coming together to envision & create. I am so thankful for this journey.