Chatsfield School in Lapeer has an ecology club that lead by Peter McCreedy and assistant, Jenny.  This enthusiastic Green Club group rolled into the Strawbale Studio for a tour of the grounds and buildings. The focus was Rocket Stoves, a big hit on a gray damp day.
The cozy Rumford Fireplace  in a little cabin, creates a cozy place to curl up with a good book.  And the awesome Rocket Stove Heated bench really does warm up !
Their club does projects such as Earth Ovens, small buildings & Maple Syruping…LUCKILY, because they gifted Strawbale Studio with a jug of it, which I poured on pancakes made from the sourdough batter fermenting here in the kitchen.  YUM.
Peter McCreedy (the most fabulous teacher I have ever met) leads the way in exploring all sorts of natural projects     at The Willows Ecological  Educatio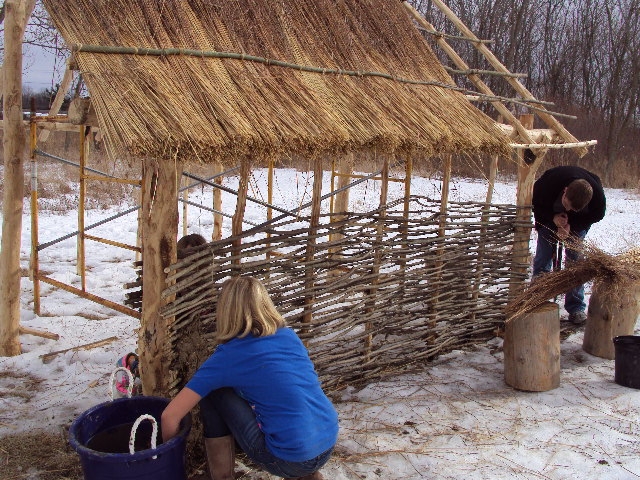 n Center (a 4500 sq. ft. strawbale building, with solar energy, a greenhouse and studio space for wilderness crafts) and surrounding grounds.  During the tour he checked out the thatching process to apply to a Cahokia hut (right) that is being built at The Willows.